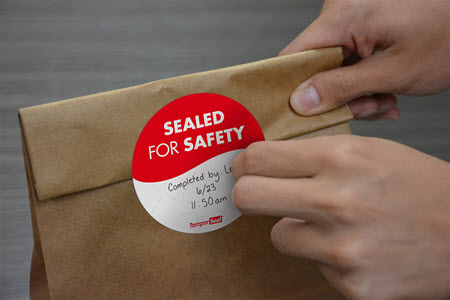 Third-party food delivery may have single-handedly saved the restaurant industry. Now, governments are beginning to ensure its safety.
Had third-party delivery not blossomed when it did, the COVID-19 pandemic could have had catastrophic effects on restaurants across the United States and around the world. As it is, the industry took a serious hit stemming from a cautious public coupled with federal and local restrictions. Fortunately, delivery providers like GrubHub, DoorDash and UberEats have played a major role in propping up revenue for everything from independently owned restaurants to major chains.
Along with getting food delivered during a pandemic, however, comes customer concern over the safety of the delivery. People want to know that what they are about to eat is as safe as it is delicious.
To that end, the state of California recently passed the Fair Food Delivery Act, which, in part, requires that "all bags or containers in which ready-to-eat foods are being transported or delivered from a food facility to a customer through a third-party food delivery platform shall be closed by the food facility with a tamper-evident method prior to the food deliverer, who transports and delivers ready-to-eat food for the third-party food delivery platform, taking possession of the ready-to-eat food."
In short, tamper-evident labels will be required on all third-party delivered food. These new requirements take effect in January 2021, and it is expected that other states will follow suit shortly thereafter.
Tamper-evident labels, such as TamperSeal from DayMark, provide a visual indicator when food is tampered with. TamperSeal's security slits and superior, ultra-aggressive adhesive keep the label attached to the package, ensuring that the labels break down when the package is opened and cannot be peeled away from packaging cleanly.
"This visual indication delivers peace of mind to delivery customers who are reassured that the food they've ordered from their favorite food service establishment is safe to eat," says AJ Haas, Category Manager of Food Safety Tech at DayMark.
As a bonus, operators have found that TamperSeal labels provide more than security—they also present a branding opportunity. When used with the MenuPilot® app and Matt85™ printer , content such as date codes, a company logo and other types of customized information can be printed on the label.
Establishments across the country are employing tamper-evident labeling even if they are not located in a state that requires it. As these systems become more ubiquitous, customer awareness is increasing and the labels are becoming a sign of safe food-handling practices.
For more information on TamperSeal labels, visit daymarksafety.com/tamperseal.

DayMark's TamperSeal™️ and custom tamper-evident labels are 21CFR certified for indirect food contact. These labels are solely intended to help ensure your food is safe from unwanted consumption by others.
comments powered by

Disqus