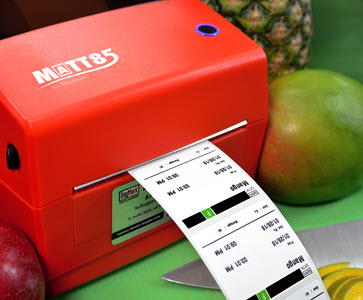 Retail foodservice operators now have available to them smarter strategies to maintain fresh and prepared food safety without increasing human contact, allowing them to use labor more effectively and ensuring that wasted product is kept to a minimum.
Improved foodservice technology helps to safeguard the wellbeing of employees and the public. For many operators, the solution is to invest in automation that can save money and simplify operations in fresh departments while remaining focused on food safety and health standards. DayMark's MenuCommand® kitchen automation platform, for example, offers one solution for food safety labeling, task management, receiving, and temperature monitoring.
It's all in the label
Custom, web-based labeling systems provide basic information such as safe-handling instructions, the date and time the food was prepared and nutritional information, including an FDA-compliant label for grab-and-go foods. DayMark pairs its system with the Matt85™ and Matt77™ Bluetooth-enabled direct thermal printers that allow for quick and easy label printing. With wireless technology, labels can be printed on demand, reducing label inventory and saving money.
An added feature is easy access to recipe information and training videos that can be uploaded at a central location and automatically shared with all connected store locations. This allows staff members to be better prepared to handle ever-changing processes and increases consistency across multiple locations.
Temperature monitoring made easy
One key to food safety is regular temperature checks, including cold holding in refrigeration units as well as food checks in hot-hold situations. In the past, monitoring temperatures was tedious and sometimes ineffective as staff members manually checked and recorded temperatures in a handwritten log. Automated systems, such as the DayMark Temp Monitoring Solution featuring the cutting-edge LoRa technology from JRI®, offer HACCP-compliance and provide food safety management and temperature monitoring through an intuitive and comprehensive web application, either wirelessly or through a hardwired connection. These systems eliminate the need for staff to manually check temperatures and are an accurate, reliable way to make sure all foods are stored and cooked correctly.
Doing more with less
Confronted with nationwide labor challenges, retail foodservice operators must focus on streamlining worker tasks. By utilizing a web-based task management application, operators are able to manage and document ongoing operations in both the front- and back-of-house quickly and efficiently. These apps include a variety of tools, including task organization, flexible scheduling, and recording of daily health details.
Additionally, apps like DayMark's Receiving Module give retail foodservice operators the ability to create custom, item-specific non-conformances that identify and document orders that are short, out-of-spec or otherwise incorrect. The application also can be used to adjust expected shipment status and keep open deliveries on hold based on delays or other incomplete information.
Investing in automated solutions helps streamline the many tasks that come with operating any type of food service or prep facilities, resulting in increased productivity, better protection for employees, safer food operations and a positive bottom line.
Article originally appeared on the Winsight Grocery Business website
comments powered by

Disqus