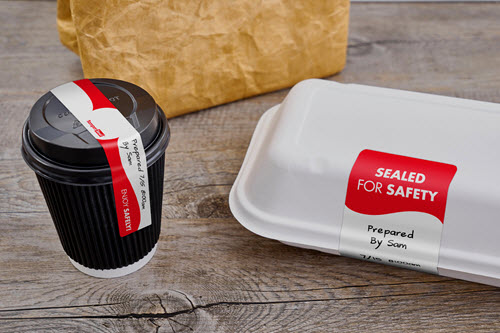 The onset of COVID-19 pandemic restrictions made shoppers reluctant to leave home and physically enter stores. With third-party delivery services already experiencing increased usage across the restaurant and grocery industries, it was only a matter of time before convenience stores followed the trend to remain viable.
However, a Technomic survey identified consumer awareness as being the biggest roadblock for c-stores jumping into delivery—consumers weren't considering c-stores when evaluating delivery options. How best to get the word out, then?
Many stores have begun educating consumers that they can order for delivery, and, taking things a step further, are now elevating the presentation of delivered food. One such method is using tamper-evident labeling to visually indicate the safety of the food, increasing the likelihood that consumers will continue ordering for delivery. Operators are recognizing that it is up to them to meet—and exceed—customer expectations that the food they prepare is delivered on time, undamaged and safe.
Convenient and safe
Even when looking for convenience, customers want to feel confident that the food being delivered is safe. The packaging of a customer's order is an important consideration when relying on off-premise dining. Many operators have already taken safety into consideration and are using tamper-evident methods to prevent food safety risks that may occur during the transportation, delivery and handling of their food products.
For example, DayMark Safety Systems offers TamperSeal labels as a way to secure delivered food items and provide customers with peace of mind. The labels feature security slits cut on the surface of the label that tear if someone attempts to open the container, making it visibly obvious the package has been opened.
The TamperSeal line also utilizes a strong adhesive that securely sticks to most packaging materials. And, as an added benefit, operators have the ability to include printed information such as a store logo; a web address; safe handling instructions; date and time the food was prepared; and nutritional and other customized information directly onto the label.
Even as COVID restrictions loosen and people become more comfortable returning to normal activities, many of the behavior changes exhibited by customers during the pandemic are expected to continue. With the reliance on off-premise dining taking hold, operators are continuing to find new approaches to reach consumers without sacrificing quality, convenience—or food safety.
Article originally appeared on the CSP website.
comments powered by

Disqus