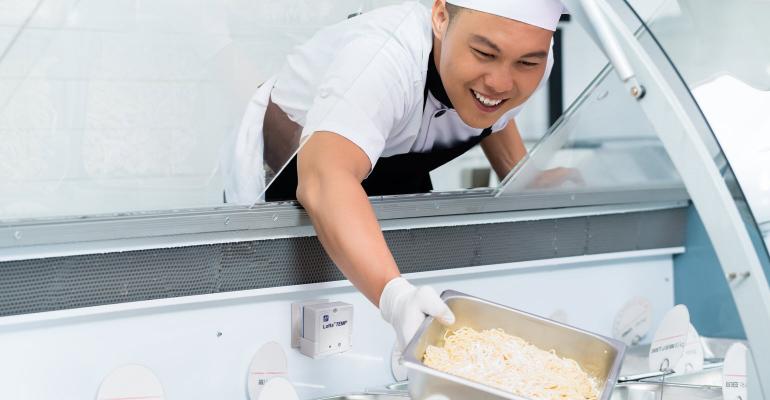 Temperature-monitoring solution is ideally suited for noncommercial foodservice facilities.
Labor shortages have been widespread across the foodservice industry, from traditional restaurants to on-site foodservice providers, including K-12 schools, colleges and universities, airports and sports venues.
In fact, several colleges reported that their on-campus foodservice facilities would be remain partially closed due to staff shortfalls as students returned for the fall semester. Grand Valley State University in Michigan, for example, has closed 17 of its dining facilities due to staffing issues, while those that remain open have had to limit their menu options.
Similar challenges have forced ballpark and airport concessionaires to scale down their operations and menus, according to reports. At Oracle Park in San Francisco, home of Major League Baseball's Giants, foodservice operator Bon Appetit turned to the local hotel union in an effort to hire idle hotel workers, and also partnered with local temp agencies to secure staff, according to a report in the San Francisco Examiner. The ballpark's foodservice operations were only able to open at about 85% capacity at one point this summer due to staff shortages.
A viable solution
Technology has emerged as a viable solution to help many operators in this environment. In the front-of-the-house, digital ordering and payment solutions that encourage customers to order from a kiosk, website or app have been a natural labor-saving solution for both operators and customers.
Automation can play a key role in the back-of-the-house as well. One key area of opportunity for the use of technology behind the scenes is temperature monitoring for food safety. Food-safety monitoring has become increasingly complex as operators provide service from a variety of venues, including self-serve, grab-and-go cases, made-to-order cook lines and hot and cold salad bars. These are all potential danger zones for harmful bacteria.
Short-staffed kitchens and high turnover among workers have only compounded the challenges that operators face in monitoring temperature conditions throughout their facilities.
Unlike streamlining a cafeteria menu or closing some dining area, there is no room for cutting corners when it comes ensuring food safety amid a labor crunch. Foodborne disease causes an estimated 600 million illnesses and hundreds of thousands of deaths worldwide each year, according to the World Health Organization. In the U.S., the Centers for Disease Control and Prevention estimates that 3,000 people die each year from foodborne illnesses.
Technology to help mitigate food-safety risks is evolving rapidly, however.
Meeting today's complex demands
The DayMark® Temp Monitoring and Food Check Solution, powered by JRI, meets the demands of today's complex food-safety challenges. The system features robust hardware and user-friendly software designed for a diverse foodservice environment. It now also includes LoRa technology, which allows for longer-range communication between components of the Temp Monitoring system.
LoRa, which has gained increasing importance amid the growing use of connected devices, uses a low frequency that can travel further and can be customized in order to optimize messaging by avoiding obstacles. This technology is especially well-suited for large-format spaces where points of measurement are spread out and there are obstacles scattered across the venue, and/or heavy foot traffic.
"LoRa technology provides for more reliable results and the increased flexibility needed by operations with a larger footprint," says Debbie Leifer, category manager of food safety technology at DayMark. "It gives the Temp Monitoring Solution the ability to alter its frequency in order to optimize messaging and bypass obstacles."
The system is compliant with Hazardous Analysis of Critical Control Point (HACCP) food-safety protocols, and is accurate, easy to use and saves operators time and money by eliminating the need for manual temperature monitoring, hand-recorded logs and paper audits.
According to the LoRa Alliance, a nonprofit organization seeking to advance the deployment of this technology, JRI's LoRa temperature monitoring solutions have been employed across a range of applications. Those include warehouses, cold rooms, refrigerators and freezers, as well as in transport applications such as vehicles and containers. The solutions have been deployed widely by several global food manufacturers, as well as hospitals, blood banks and the pharmacy industry.
As operators look outside the foodservice industry for workers, and as existing staff juggle evolving responsibilities and ever-changing protocols for coping with the ongoing pandemic, it is important that operators ensure that stringent food-safety practices remain in place. Temperature controls, cleaning and sanitization procedures, careful record-keeping and other elements of a facility's food-safety program leave no room for compromises.
For more information about how your foodservice operation can protect food safety with state-of-the-art temperature monitoring and other solutions, visit https://www.daymarksafety.com/temp-monitoring-demo/
Article originally appeared on the Food Management website.
comments powered by

Disqus