News
Posted on
A few years back, Elkins Middle School, located in West Virginia, made a significant change in the way they served breakfast to its students. Instead of having students walk through long lines in the cafeteria, they can now select a grab and go breakfast which they can eat on the move and even in their classrooms.
Elkins Middle is one of 100 schools in the state which now offers students grab and go food breakfasts. And through a unique program, the grab and go food is provided free to about 40 percent of the students.
The program has been credited with producing some unexpected positive results such as:
A 15 percent reduction in school suspensions
Improved student energy and class participation
Fewer discipline issues
An increase in attendance and a decrease in tardiness.
Before the plan began, school administrators said students often started their school day grumpy, tired, and hungry, all of which made many disorderly throughout the daytime. This often occurred because some school buses arrived late after the cafeteria had closed for the morning breakfast.
Since most of the students did not receive breakfast before leaving for school, this meant they had to wait three hours or more for lunch, making lunch their first meal of the day. Not the best way for anyone to start their day. However, now that the grab and go breakfast is available even if the cafeteria has closed, most students can grab something to eat to start their day off right.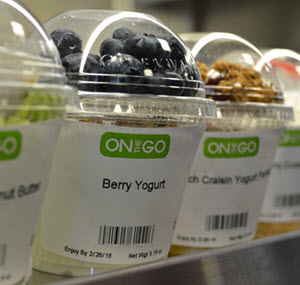 "We're trying to eliminate [reasons for not having] breakfast, and that's making the difference," says Kristie Blower of the state's Office of Child Nutrition. "Instead of only offering breakfast early in the morning when students first arrive, [with the grab and go breakfast] they don't have to miss out if their bus is late or if they want to socialize."
The biggest challenge to implementing the grab and go breakfast program and having it delivered to the 100 schools participating is getting acceptance from the teachers and administrators supporting it. This is possibly the result of old thinking about grab and go food as being a food item of lesser quality. "It's a change in thinking about grab and go," adds Blower.
Today's grab and go food is much tastier and nutritious. Consumers can now expect to find grab and go food not only in schools, but high-end hotels, organic grocery stores, convention centers, airports, and many other places of business. Along with being tasty and nutritious, it is often made with organic food items. Further, when properly and clearly labeled, teachers, administrators and students know exactly what is in the items they are selecting, building confidence in the quality of the food.
And with the introduction of next-generation labeling technologies, the entire labeling process can be centralized for participating schools, allowing for labeling changes to be made remotely when necessary..
Blower adds that as word about the positive results of the grab and go breakfasts has spread throughout the state, there has been a substantial increase in participation rates among other schools. Now at least one school in each county in the state is implementing a similar program. "Our elementary schools are seeing wonderful results," she says. "We're seeing a lot fewer trips to the school nurse for tummy aches. This is helping students sustain and concentrate longer."
And some parents are now praising the program as well. "As a parent, I can speak from my experience. My son was one of those kids who didn't want to eat first thing in the morning but was hungry by the time class started. The grab and go program is changing the course of kids' days and will become a permanent part of their life. It's the most important meal of the day."
For more information on grab and go food, next-generation labeling terminals and technologies, contact a DayMark representative here.
According to the National Floor Safety Institute (NFSI) and as reported by EHS Today , slip and fall accidents are the number one cause of injuries in the hospitality industry. Looking at this statistic a bit closer, we find that most of these slip and fall accidents in restaurants do not occur in the dining room, but in the back-of-house, or the [...]
People getting sick in a restaurant is a fact of life for many establishments. Because we have to assume that the ill person may have norovirus, we have no choice but to know how to respond when this occurs and the proper actions to take to stop the spread of norovirus and prevent the situation from becoming more [...]
Depending on which studies you read, the grab and go (GNG) industry has been—and continues to be—a booming industry. According to Richard Macomb, a UK-based writer that follows grab and go trends, "it's a booming sector fueling our busy lives."The reason he gives for this rapid growth is that GNG has offered so much convenience and "convenience is king". [...]
The food labeling industry is in the midst of several emerging trends. For the most part, new food labeling programs are being introduced to benefit food manufacturers, retailers marketing food products such as grab and go food items, the customers who purchase these products, and our environment.In fact, when it comes to grab and go food items, some would say [...]
With NRA in our rear-view mirror, operators are excited about what's on the horizon.According to Jill Carte with DayMark Safety Systems, a leading manufacturer of food labeling technologies, one key takeaway she and others noticed was the growing interest in technology in the fields of nutrition analysis and HACCP compliance.There is also growing interest among operators with several locations to [...]
DayMark Safety Systems recently announced that our DissolveMark™ food labels have been reviewed and accredited by two leading, independent third-party testing laboratories. The DissolveMark labels are designed to dissolve in any temperature of water in less than 30 seconds, leaving no adhesive residue behind that could harbor harmful bacteria. Also, we were certified by the Forest Stewardship Council® (FSC) transfer system. When [...]
China has depended very heavily on coal to make itself the second-largest economy in the world, but it appears that this has cost the country likely more than it realizes in a variety of unfortunate ways. Not only is air pollution in China a health problem and a problem for the economy, but now it's having a big impact [...]
It appears that grab-and-go food has become very popular with the on-the-go millennial generation. Grab-and-go food (GNG) refers to pre-packaged, ready-to-eat food items often sold at a self-service refrigerator or something similar.At one time, a good thirty years ago, these items were often viewed as a "second class" food offering found at a gas station or quick stop store, [...]
There is a reason grab-and-go food is so popular. As part of her honors thesis in 2010, a student at the University of Arizona asked 219 undergraduates about their college eating habits. Because the students indicated they lived "on-the-go" lifestyles and were invariably in a rush to attend this class, meet that person, or join an event, 82 percent said they would [...]