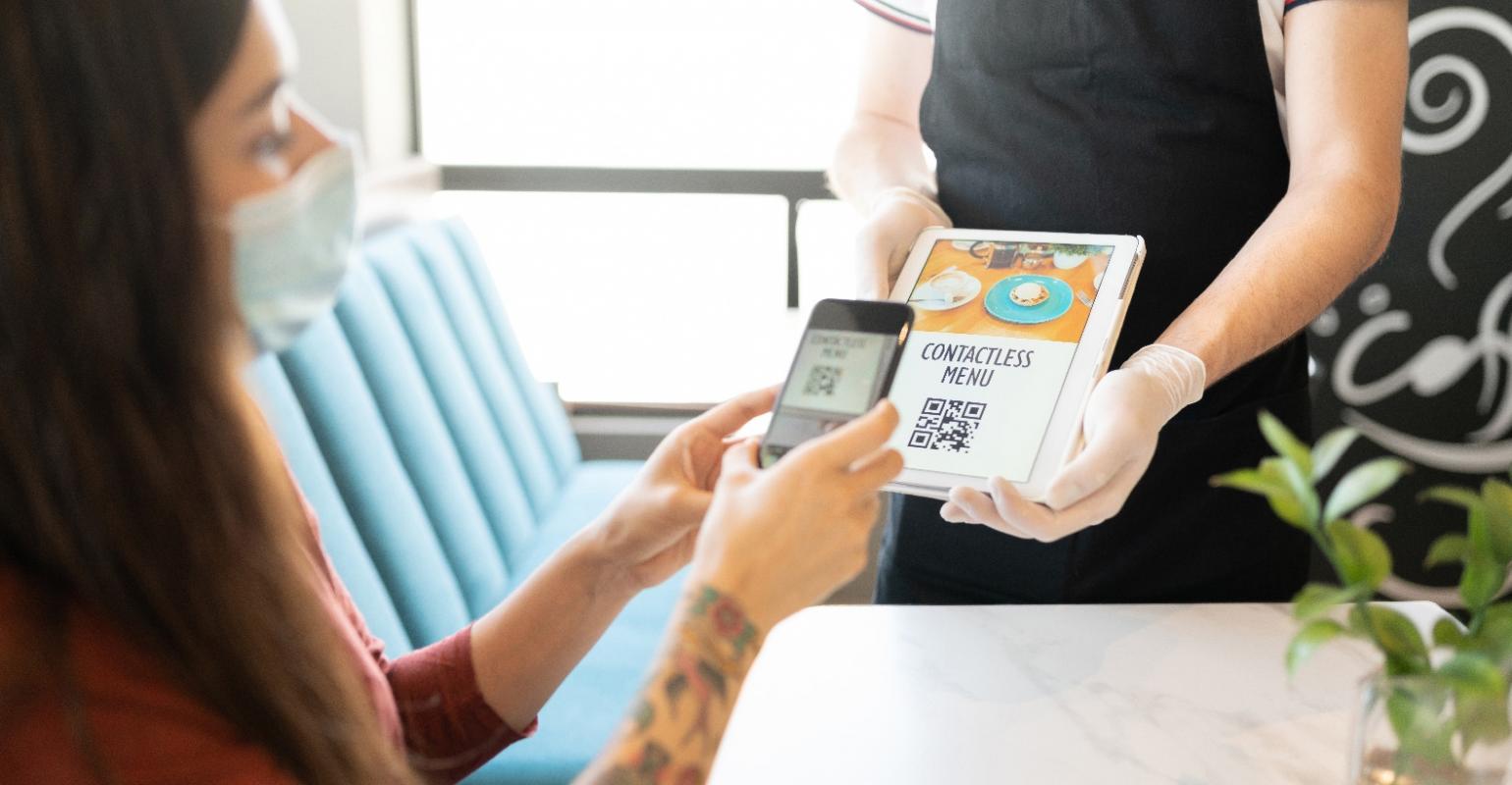 The dining industry has been among the hardest hit by COVID-19. It's like nothing we've ever experienced before, and it brought changes that are sure to continue well into the future. While safety was paramount, adaptability and creativity were vital in implementing safety protocol and providing the level of service our clients deserve. Increased cleaning and sanitation measures, detailed training, social distancing, technology to minimize human interaction, outdoor dining, meal delivery, pop-up grocery shops and a ramp-up of our grab-and-go takeout programs were all instrumental in helping us address ever-changing needs while serving guests safely. Ongoing collaboration with our client partners ensured we kept our guest-focus and accommodated all needs.
Technology has never been more important. Contactless payment, QR codes for menus, ordering apps, order kiosks, communication through Zoom presentations and meetings, and low-contact promotions and surveys were just a sampling of the ways we utilized technology to balance critical health and safety requirements with day-to-day operations.
NUTRITICS, a nutrition analysis software, was introduced throughout the Metz Culinary Management system for streamlined recipe and menu management, product cost analysis and digital menu ordering. Contactless technology has become a habit that because of its safety and convenience is here to stay.
We anticipate a big spike in contactless order kiosks and a move to contactless menus and payment in dining everywhere. Most exciting, we are also exploring implementing robotic delivery systems in hospitals and higher education accounts.
Teamwork, collaboration & takeout
Our teams have been fantastic in thinking outside the box and pivoting quickly to address changes in dining. A focus on outdoor dining, making it more comfortable even in inclement weather, will be part of how we continue to do business.
From mobile themed food carts going room to room in senior living to the curbside pickup of meals in K-12, quarantine meals in higher ed and a partnership with Grubhub on the campus of Florida A&M University, we transformed quickly to meet the demands of moving from dining in large settings to dining individually and takeout.
We foresee this focus on takeout and delivery continuing as it has become a safe and popular convenience. We will continue to innovate with food through a restaurant mentality. Our rebranded and expanded Chef Fresh grab and go featuring exciting new menu items and our take home and heat family meal initiative introduced in healthcare settings for the convenience of essential workers are here to stay. We believe people will want options in the foreseeable future for both dine-in and dine out. Delivery will be a huge piece of the puzzle that we look to improve upon, expand, and perfect across all industry segments.
Salad bars reimagined into pop-up shops
Salad bars and other unused spaces were repurposed for use as pop-up grocery shops complete with fresh fruits and vegetables, as well as popular grocery items, for the convenience of our clients and guests. This will continue to some extent for convenience items to save trips to the store. Realizing the small business community was hurting, our team at Sinai Hospital allowed local minority-owned businesses to set up rotating pop-up shops in an unused space during certain hours. It was about people helping people.
Feeding the needs of communities
The introduction of the Metz Culinary & Catering Center in Sarasota in 2018 could not have come at a more opportune time. It enabled us to serve those in need throughout the pandemic and will be instrumental in meeting needs in the years to come. During the height of the pandemic, our USDA certified Culinary Center was producing 40,000 meals per day to support our customer base. Meals prepared in Sarasota were delivered to people throughout Florida, as well as locations in Georgia, South Carolina and Colorado.
Organizations served by Metz Culinary include Feeding Tampa Bay, Meals on Wheels Manatee, Mid Florida Community Services, and Saint Vincent De Paul, among many others. We also provided for the emergency food needs of the local Red Cross, Manatee County Emergency Operations, and the Sarasota County Emergency Operations. Supporting and providing for our community is and will always be important to us.
Brighter days on the horizon
The pandemic forced all businesses to keep a closer eye on labor and operations and make right-size decisions to operate more efficiently. Ongoing evaluation of business is paramount to the health and safety of our team and guests, as well as the efficient operation of the business. We feel fortunate to be in an industry with great client-partners. They've supported us as much as we've supported them, and we look forward to a good year ahead.
Article written by Jeff Metz and John C. Metz from Metz Culinary Management, and originally appeared on the Food Management website.
comments powered by

Disqus