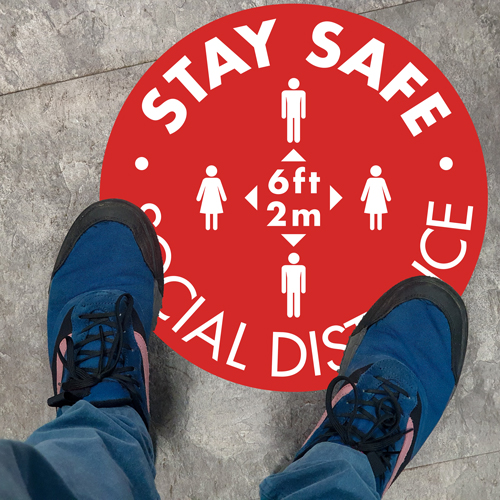 As states across the country begin to relax stay-at-home orders, there are considerable variations and no one best approach to reopening restaurants. Because local and state governments have different guidelines for opening during the COVID-19 pandemic, and given consumer and employee fear of contracting the coronavirus, operators must find unique ways to keep themselves and their guests safe.
To help address these issues, the National Restaurant Association recently issued best practice guidelines that include direction and advice from the FDA, the CDC, the EPA, and other agencies. The guidelines include best practices for restaurant operations that offer dine-in, takeout and delivery services, focusing on safeguarding workers as well as safe handling and delivery of food.
Safety through hygiene and social distancing
Workers must be encouraged—or required—to stay home or leave work if they are sick. Restaurant operators should develop and implement a health assessment that includes periodic testing staff for the symptoms of COVID-19, questionnaires regarding symptoms and exposure and regular temperature checks. Utilizing a medical grade thermometer that provides accurate, non-contact measurement is an important part of any health assessment.
For dine-in customers, updating floor plans and redesigning seating arrangements is necessary to ensure there are at least six feet of separation between table setups. Wall signs and floor decals can serve to remind customers and staff to keep a safe distance between themselves and others.
With this in mind, DayMark Safety Systems now offers a line of products specifically aimed at helping restaurants reopen safely and efficiently. The line includes hand sanitizer gel packets that are ideal and safe for personal use; posters that address proper techniques for food storage and hand washing (including when and how to wash hands); andfloor decals that demonstrate social distancing and easily adhere to various hard indoor floor surfaces.
Food safety for dine-in or carryout
Many restaurants have embraced takeout and delivery as a means of serving their customers during the pandemic. Tamper-evident labels, such as the TamperSeal line, help ensure the safe delivery of food items. TamperSeal labels feature security slits that cause the label to lose its integrity if someone attempts to open the container. If the seal is broken upon delivery, it is a clear indication that the food may have been tampered with.
Monitoring food temperature, both in refrigeration units and in prepared food checks, is another crucial step toward meeting health and safety standards. Having a system in place that eliminates the need for staff to manually check temperatures and is an accurate and reliable way to make sure all foods are stored and cooked correctly can substantially improve customer safety.One such system is the DayMark Temp Monitoring and Food Check Solution, a HACCP-compliant system that provides food safety management, temperature monitoring and compliance through an intuitive and comprehensive web application, either wirelessly or through a hardwired connection.
As shelter-in-place orders are lifted, restaurant operators will need to reopen with caution while wading through local, state and federal requirements, understanding which directives are mandatory, while reviewing their own existing policies.
Article originally appeared on the Restaurant Business website.
comments powered by

Disqus