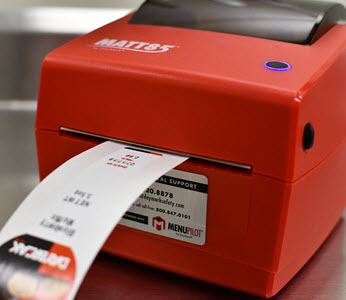 Web-based applications can help streamline menu and recipe management, training, food labeling and communication.
Directing the many facets of an active food service operation requires the ability to multi-task, lead, organize, think on your feet, and meet stringent regulations while producing quality food day after day. The demands of the job have the potential to overwhelm.
Proactive food service directors are always on the hunt for tools and ideas that will help streamline their operations and add as much automation and as many simplified systems as possible. The right tools can improve product while reducing the stress of everyone on your team.
Safe, fresh, clearly labeled.
The majority of people who rely on food service operations in hospitals, schools, universities, large offices and other institutions are looking for clearly identified foods that are both healthy and fresh.
Studies show that these consumers want grab and go products made with simple, recognizable ingredients that are labeled clearly, with easy-to-read, detailed ingredient and freshness information. They want to be able to quickly discern fresh, local and natural qualities, and they want to see "free-from" statements, such as "antibiotic-free", "GMO-free" and "hormone-free".
Millennials are leading the growing "free-from" foods trend. Of the participants in a recent Mintel group study, 60% of millennials said they're concerned about transparency and clean ingredients in the food they eat.
The desire for transparency and the need to quickly and easily read label information and make a buying decision that is as healthy – and convenient – as possible are where a competent menu and recipe management and label automation system can provide help in any active food service operation.
Make it automatically easier.
From entire school systems operating huge central production kitchens, to multi-location hospital groups with multiple local kitchens, menu and recipe management are key to serving fresh food with the kinds of labels consumers want.
One such system is becoming the talk of the food service industry. DayMark Safety Systems has developed a custom, web-based nutrition labeling system that provides detailed information on all of a food service operation's menu items.
"Through our popular MenuPilot™ platform, food service directors can supervise the development of new recipes and manage change," explains Jill Carte, Director of Product Development at DayMark. "Directors can also calculate product prices, compare supplier prices and track compliance."
Carte says the application offers traceability of all interactions, including non-conformances and claims. "Through the MenuPilot platform, collaboration within local teams and among corporate headquarters is optimized. Training is easier, updates are instantaneous to all locations, and centralized data makes consistency in menus, recipes, products and labeling more possible than ever before."
Food service directors especially value the easy menu update feature, with updates securely and efficiently pulled in via the cloud from the centralized MenuCommand™ dashboard to the MenuPilot app at the store level. This includes real-time changes that can be communicated to staff at all locations via a sync operation in the app.
DayMark's kitchen automation app utilizes a robust database of ingredients to quickly build and manage recipes and menu data. The dashboard at the corporate level seamlessly integrates with MenuPilot in the kitchen, providing expanded menu management capabilities.
Carte says that DayMark has streamlined training and ramp-up. "There's no need for time-consuming file conversions, recipe card file reformatting or large storage requirements," she explains. "Our customers can upload video and recipe data at a central location and automatically share it with all connected locations. It's simple to use."
A good, user-friendly dashboard should provide a comprehensive overview, including announcements, account metrics, detailed analytics, and number of users currently using the platform. DayMark's system does.
"Customer reaction to our MenuPilot application and streamlined single-screen management of menu data via the MenuCommand web portal has been overwhelmingly positive," explains Carte. "That's because it's such a reliable, user-friendly way to reduce dependence on hardware and increase performance." DayMark's customers who are successfully using MenuPilot and MenuCommand include over ten thousand national and international restaurant chains, convenience stores and other food service operations.
Cost effective printer and label options help tell the fresh product story.
DayMark's Bluetooth-enabled Matt85™ label printer, available as part of a complete automated food labeling program, allows users to print labels wirelessly using the MenuPilot app and the available Matt85 Android tablet.
"We're excited about the Matt85 printer," Carte says. "It's a premium direct thermal printer at a low cost and it needs no repairs, so it pays for itself quickly while providing anytime, anywhere printing."
DayMark Matt85 label options include dissolvable labels, unique die-cut shapes, wet compatibility and removable versions in widths up to four inches.
Kitchen automation helps take stress off the plate and keep profits in the bottom line.
The advantages of kitchen automation are many. The right automation system can help food service directors manage the impact of changes, simplify health alerts on menus and products, master expenses, prioritize projects and manage their portfolio of existing products.
Kitchens in educational, institutional, healthcare and corporate food service operations, are using systems like the DayMark platform to manage recipes, train staff and produce labels while reducing costs and presenting more appealing product.
Advanced automation can be a powerful tool that helps reduce the stress of food service directors who use it. Meeting the demands of today's consumers for fresh, clean, convenient foods requires fast, accurate labeling capabilities. Having that capability can help market your food products and improve the safety and compliance of your operation. It could be time to move your food service operation onto an automation platform.
comments powered by

Disqus