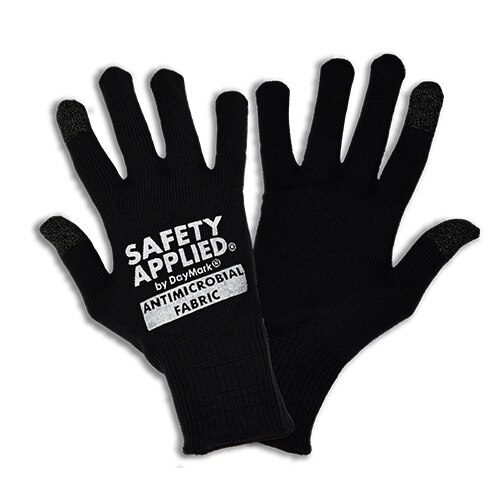 SafetyApplied® Antimicrobial Gloves by DayMark feature Microban® antimicrobial fabric. How does this technology help you?
Helping Textile Products Stay Cleaner
A global leader in antimicrobial and surface modification technologies, Microban International offers proactive antimicrobial protection systems that give products the power to withstand stains and odor-causing microbial growth, which often lead to product deterioration.
In damp and humid conditions, microorganisms like bacteria and mold can double every 20 minutes. This is why Microban antimicrobial treatment is an important element of the design and development of many textile products. When infused into the textiles during manufacturing, Microban antimicrobial solution disrupts uncontrolled growth of stain and odor causing microbes.
Food preparation items such as chopping boards, utensils, and kitchen textiles need regular cleaning. Microban antimicrobial treatment is not meant to be an alternative for proper cleaning practices, and does not protect the user against foodborne illnesses. By preventing the growth of bacteria that leads to stains, odors and product deterioration, Microban protection helps food prep and food processing equipment stay cleaner between regular cleanings. Food prep and food processing equipment with Microban protection is EPA approved for use in food zones and food service equipment.
Frequently Asked Questions
What is an antimicrobial?
An antimicrobial is a substance that works to prevent the growth and reproduction of microorganisms.
What kinds of microorganisms does Microban work to protect against?
Microban technology is effective against molds, yeast, fungi and common bacteria that may cause stains, odors and product deterioration. It is not intended to protect users from disease-causing microorganisms.
Is it safe around food?
Microban technology used in food processing equipment is EPA approved for use in food zones and splash areas, and foodservice equipment.
How long does Microban take to kick in?
Microban protection kicks in as soon as microorganisms come into contact with the product surface. It is not a disinfectant and is not an alternative for proper cleaning standards.
How long does Microban work?
Microban is incorporated into products during manufacturing. It is designed to provide antimicrobial protection for the lifetime of the product and will not wash off or wear away, keeping treated products cleaner for longer.
If using Microban, can I clean products less often?
No. Microban aids in keeping products cleaner and making them easier to clean during their product life. It is not an alternative for the proper cleaning standards recommended by the product manufacturer.
comments powered by

Disqus