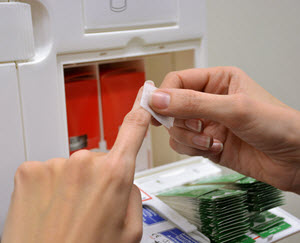 Finding a first aid kit empty is not an uncommon experience.
Administrators in all types of facilities should make it easy to locate first aid kits when an emergency arises. But all too often when they do, the supplies have gone missing and have not been restocked. The result is that time is wasted, which could be better served treating the injured worker. This circumstance can turn a relatively minor workplace injury into a much more critical incident.
While a good way to ensure that they may remain adequately stocked, the solution is not to hide first aid kits in locked cabinets. In fact, doing so could—and likely would—make such an incident even worse. Time is critical when it comes to attending to workplace injuries as valuable time can be lost when staff must search for keys to a supply closet. According to the Occupational Safety and Health Administration (OSHA), first aid kits must remain readily available.
Because speed is important when it comes to treating workplace injuries, some first aid kits are now constructed with a door-in-the-door panel that allows for easy access to some of the most commonly used items in a first aid kit—bandages and antiseptic wipes. Instead of opening the entire first aid kit and introducing the risk of contaminating other items in the kit, the panel allows the user quick and hassle-free access to items they are likely to need most frequently. This saves time, can reduce the seriousness of a workplace injury, and helps workers get back on the job as soon as possible.
Fast access to essential first aid and easy access to the kit itself make for a safe and compliant facility. Isn't that what we all really want? And not just because OSHA says so, but because it is the right thing to do.
For more information on DayMark Safety Systems first aid kits, contact Duane Carey at dcarey@cmcgp.com
comments powered by

Disqus