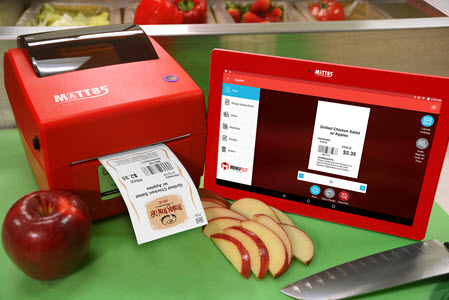 Grab-and-go and freshly prepared meals are both trending food options that allow convenience stores to compete with supermarkets to build loyalty and increase sales. But offering these fresh food options requires a plan and the right tools to give today's informed consumers the fresh, local, clean and convenient food they demand.
Consumers in general are more informed and have become quite selective in terms of what they want to eat. Now, more than ever, shoppers want more product transparency, especially when it comes to a prepared food product's ingredients and nutritional information. And shoppers are busier than ever—yet say it's still important to find convenient foods that are also healthy. C-stores that offer fresh prepared food and clear labeling of ingredients with nutrition facts may have tremendous potential to gain more female and millennial customers, in particular.
Convenient, in more than one way
Across the board, the convenience industry is investing in advanced technologies, including mobile and in-store systems, even as they add fast-food kitchens and juice bars to become high-quality food service operations and sophisticated stores.
To win customers and increase fresh prepared food volume, c-stores will need to stay focused on product quality while making it easy for shoppers to quickly identify prepared food ingredients and nutrition information. The buying decision and process must still be quick, in other words, even when food is freshly made. For these reasons, in-store technology that improves the shopping experience while reducing costs is key.
Automated fresh food labeling makes it easy
Since consumers want fresh prepared foods that offer detailed ingredient information, the label becomes a vital tool.
At least a quarter of c-store shoppers say they value more nutrition information and more emphasis on healthy ingredients. For operators looking to improve the presentation and quality of fresh offerings while winning the confidence and loyalty of shoppers, labels are vital.
An automated system is in store
One example of automation that makes fresh food product labeling easier is DayMark Safety Systems' popular MenuPilot™ kitchen automation platform. Kitchens in multiple settings, including convenience stores, are using systems like this to manage recipes, train staff and produce labels while reducing costs and presenting more appealing product that is identified the way consumers want it.
"We find that customers especially value the ability to securely and efficiently pull in updates via the cloud at the store level," says Jill Carte, director of product development at DayMark. "This includes real-time changes that can be communicated to staff at all locations via a sync operation in the app."
DayMark's leading edge platform utilizes a robust database of ingredients to quickly build and manage recipes and menu data. A dashboard at the corporate level seamlessly integrates with an app in the kitchen, providing expanded menu management capabilities.
A tough printer and plenty of label options are a must
At the center of any good automated label system is a solid printer. Traditionally, these printers have been cumbersome, expensive and difficult to maintain. However, newer models are breaking this mold.
DayMark's Matt85™ label printer, available as part of the MenuPilot platform, allows users to print labels wirelessly using the app on an Android tablet via a Bluetooth connection. The printer offers label options that include dissolvable labels, unique die-cut shapes, wet compatibility and removable versions in widths up to four inches.
"It's a premium direct thermal printer at a cost just over $400 and it needs no repairs, so it pays for itself quickly while providing anytime, anywhere printing," Carte says.
Kitchen automation empowers c-stores to compete with the big guys
Advanced automation can be a powerful tool that helps reduce costs while improving product identification, safety, rotation and sales volume. To compete with large supermarkets to meet shopper demands for fresh, clean, convenient foods requires fast, accurate labeling capabilities that can tie to other in-store technologies. It's time to take a good, hard look at the label and menu automation options available.
Article originally appeared on the CSP Magazine website.
comments powered by

Disqus