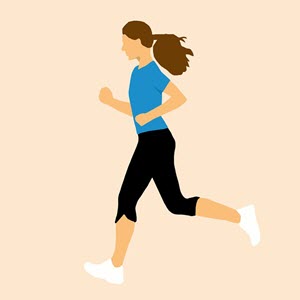 The numbers are in. In 2008, there were approximately 46 million people in the U.S. who indicated they had been running or jogging on a regular basis throughout the year. With only a couple of exceptions, those numbers have been going up every year since then, and by spring 2017, more than 65 million people now say they run or jog on a regular basis throughout the year.
People who are runners, just like most athletes, typically get very focused on the food they eat. It just comes with the territory, and a widespread expression you'll hear among runners is: "food is fuel."
The problem is, many runners are not selecting the most nutritious foods to help them stay healthy and keep on track. One reason for this is that, until recently, technologies just did not exist— or were very limited—that could analyze food items, indicate their nutritional values, note if there were any allergens in the food, and provide other nutritional data.
Along with selecting the most nutritious food items, there are other things to consider as well. For instance, variables that runners must also take into account when "tanking up" (or refueling with food) include gender, age, their training level, lifestyle, and how far they run, according to Dr. Joanne Slavin, a professor of nutrition at the University of Minnesota.
So to help joggers, runners, athletes, and the rest of us spruce up our diets, Dr. Slavin suggests doing the following:
Have a healthy attitude. Proper nutrition is all about having a healthy attitude toward food. See food as an ally. We should not "fall into the obsession hole" when it comes to our diets, but read food labels, so we have a good idea of what is in the foods we eat.
See nutrition as a balancing act. Use the food pyramid introduced in 1992 as a guide. The food pyramid was designed to list the optimal number of servings of certain food groups such as milk, vegetables, fruit, poultry, fish, or meats, as well as metrics for proteins, fat, unrefined carbohydrates, and other items that we should—or should not—consume on a daily or on a regular basis.
Call in the analysts. Use the dietary guidelines, and figure out where you are today and where you want to be in the future. Are you consuming too many meats? Too few vegetables? Not getting enough protein? View your current food intake as a starting point, your food benchmark. We want to build from here by making healthier food selections.
Know your risk factors. If your family has a history of heart disease, for instance, select foods with a minimal saturated fats. If osteoporosis is part of your family history, make sure the food you consume has calcium, which is critical for bone strength. These values should be listed on food labels.
Don't leave things to chance. "A lot of good eating is [merely] not leaving things to chance," said Slavin. "If you go to races out of town, take food with you. Know what you want to drink and eat. Once you find ways of eating that works, stick to them."
Fortunately, food manufacturers, operators, and retailers can now make it easier for us to select the right foods to help us tank up. For instance, DayMark provides recipe and menu management systems that can analyze up to 125,000 foods, providing detailed information on allergens, calories, and nutrition. And if recipe changes are made, this technology can quickly re-calculate these metrics.
This makes tanking up, whether on the track or on the couch, much easier and helps ensure the foods we eat truly provide the fuel our bodies need.
For more information on DayMark's recipe and menu management system, contact a DayMark representative at 866-517-0490.
comments powered by

Disqus