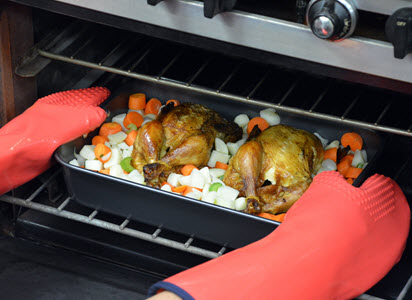 As a chef poured some pancake batter onto a griddle, his hand accidentally touched the side of the griddle. In less than a second, he hears an audible hiss—the sound of flesh, his own flesh in this case, being burned.
It happened so fast, his brain had not even detected the accident. As soon as it did, he jumped back. However, by then, there was already a raised light area on his skin, which soon turned red.
Burns just like this are a fact of life in restaurants and all types of commercial kitchens. And in some cases, burns are worse than cuts or scrapes as they tend to hurt more, last longer, and can sometimes cause permanent damage. This is why wearing gloves, made explicitly for chefs and others working in commercial kitchens, is so important.
Not any gloves will do, however. Gloves that are frayed or torn should be tossed away. And wearing the wrong glove – meaning one that does not offer the proper protection for the task being performed – can be even more dangerous than wearing a frayed mitt. This is because it provides a false sense of security.
So, what should we look for when selecting oven gloves?
According to Ed Sharek with DayMark Safety Systems, manufacturers of a wide variety of products designed to enhance food safety, personal safety, and facility safety, there are many types of gloves designed to be worn to protect those working in commercial kitchens.
Some of these include the following:
Gloves made of Kevlar®. Kevlar is a very durable material that is extremely heat- and flame-resistant, making it ideal for chefs and cooks working in a commercial kitchen. It can withstand temperatures as high as 650 degrees (F), and it also protects against abrasions.
Cut resistant gloves. When selecting cut resistant gloves, they should be flexible and form-fitting. "You want kitchen staff to be able to use them with complete dexterity… or else they won't wear them, and that's when accidents happen."
Cut resistant gloves are often available in light, medium, and heavy weights. Lighter-weight cut resistant gloves are useful when slicing smaller or more delicate food items, while heavier-weight gloves offer better protection in high-production kitchens where knives are being used to cut all types of food items.
HexArmor ® gloves. HexArmor offers a line of gloves that offer superior cut and/or puncture resistance. In fact, they can be so protective, certain types of HexArmor gloves are often worn in industrial and factory settings to pick up broken glass, needles, and other pointed items.
Metal mesh gloves. These gloves offer the highest degree of cut resistance and are often used when cutting different types of meats, chicken, and poultry.
Gloves made with polyurethane . Polyurethane provides extra abrasion resistance and may have a longer useful life. These gloves often have a softer feel but can be harder to puncture, providing increased protection.
Gloves with inner liners. Some gloves, such as those used to protect wearers from high heat and abrasions, come with an inner liner. The inner liner can be removed and is washable, often made of a polyurethane-coated material. This helps prevent the risk of contamination, helping to keep food safe in the preparation process.
"One thing to remember when selecting gloves that are heat resistant is that no matter how heat- or flame-resistant the glove is, they are intended to provide protection only for a relatively brief period," adds Sharek. "They provide just enough protection to pull away from a flame or hot objects, and prevent a burn from occurring."
For more information on kitchen safety, contact a DayMark representative.
comments powered by

Disqus