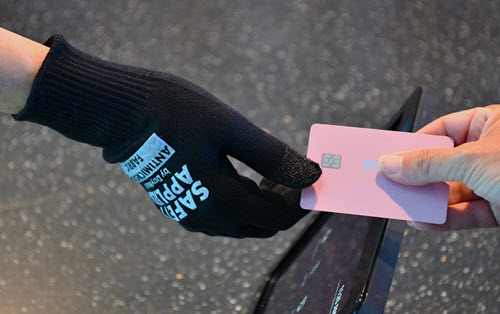 Observing grocery staff wearing gloves has become commonplace, particularly when working with ready-to-eat foods in the deli or produce departments, or when performing customer-facing tasks such as checkout or deli counters.
Most operators in the food service industry know that disposable gloves go quickly. Best practices call for staff members to change gloves frequently as the gloves can quickly be compromised by small punctures, cuts or regular wear and tear.
The COVID-19 crisis has worsened this problem and led to a surge in demand for disposable gloves worldwide. The pandemic, and the need to keep staff and customers healthy, has prompted a rush for protective equipment—including gloves—making them harder to keep in stock. In addition, when the pandemic first hit, disposable gloves and face masks became a symbol of safe living, exacerbating the shortage of gloves.
With the demand for gloves increased beyond just healthcare and food service (previously the primary markets for disposable gloves), not only is there a shortage, but there also is an increase in the price. Keeping staff supplied with the right safety equipment has become a challenge for operators and can have a negative effect on the store's bottom line.
One approach that many retail food locations are taking: antimicrobial fabric gloves. These breathable, lightweight gloves provide dexterity to perform everyday tasks while helping stop the spread of bacteria. They are also machine washable for repeated use, reducing dependence on disposable gloves. One example, the SafetyApplied Antimicrobial Glove offered by DayMark Safety Systems, includes touchscreen capability in the index and thumb fingertips, making it ideal when working with POS systems and smart devices. Store operators can assign gloves to customer-facing employees, giving them the ability to protect themselves—and the public—while allocating difficult-to-secure disposable gloves to essential, back-of-house employees and tasks.
A cut above
Even safer for those employees who work in the meat or deli department are protective gloves that go beyond just stopping the spread of bacteria. Blade cuts are a common accident in grocery store kitchens. Hand injuries can cost the supermarket industry millions of dollars in medical costs, time lost from work, and other workers' compensation insurance losses. DayMark also offers an antimicrobial glove option that is cut resistant, available in a variety of sizes and compliant with federal regulations for direct food contact.
The CRG-5.2 Antimicrobial Cut Resistant Glove is designed to protect from cuts by the sharpest blades while keeping worker comfort in mind. The 13-gauge seamless construction holds up to heavy use in the busiest of environments and the high-performance synthetic fibers provide the same extreme comfort, fit and dexterity as the SafetyApplied glove. It also features AlphaSan® antimicrobial technology, which employs silver to combat the effects of a broad spectrum of microorganisms.
Wearing any type of protective glove can be a nuisance for food service workers. Fortunately, advancements in comfort and versatility have been made with many types of gloves—including the SafetyApplied and CRG-5.2 models—making them more attractive to workers. Reusable antimicrobial gloves are providing an affordable, convenient solution, specifically with regard to the health and safety of staff and customers alike.
Article originally appeared on the Winsight Grocery Business website.
comments powered by

Disqus