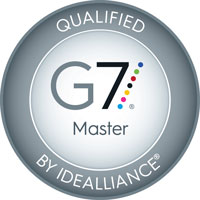 DayMark Safety Systems, a CMC Group company, announced today that its digital printing methods, which are used primarily in printing custom grab & go product packaging, have been calibrated to meet G7 standards.
G7 is a simple methodology that focuses on balancing the grays or the neutral portion of the gamut so that different printing systems and technologies print with the same visual appearance. The goal is to ensure a more consistent visual agreement of color between devices, even if they do not necessarily share the same core ink color values or substrate.
Though it requires a few additional steps to calibrate a system, the G7 methodology actually eliminates unnecessary delays during the process by reducing waste and expediting setup times, leading to an overall improvement in both efficiency and accuracy.
Now considered a G7 Master Printer, this qualification signifies DayMark's ability to more consistently achieve neutral grayscale appearance. It also reinforces DayMark's ability to provide a consistency and repeatability with their label printing that allows them to fully maintain the integrity of brand identification that their customers desire.
Securing the Qualification
The G7 qualification is overseen by Idealliance, a not-for-profit industry group dedicated to guiding print production best practices, specifications, and standards, worldwide. DayMark has since become a member of Idealliance.
Per Idealliance's requirements, DayMark consulted with Catherine Haynes, a Certified G7 Expert from All Printing Resources, in order to bring themselves in line with G7 standards. After pre-assessing their digital and flexo presses, Ms. Haynes discovered that DayMark had a good head start on the flexo process: "It turned out that our initial calibration was very close" says Rob Banister, Color Manager at DayMark. Mr. Banister then worked with Ms. Haynes to make minor adjustments to DayMark's flexo plate curves and SpotOn!™ Flexo color management software settings to ensure repeatability and process control throughout the workflow.
"We applaud DayMark for utilizing the G7 Master Program to assure consistency and quality in their proofing, brand color management and print processes," commented Steve Bonoff for Idealliance. "G7 Master Qualification demonstrates a level of control and expertise that places DayMark at the top of their field. We applaud their leadership, commitment and support of the G7 Master Qualification Program."
The G7 qualification is in place for one year; thereafter, the facility will need to re-qualify on an annual basis.
comments powered by

Disqus